What are Lurchers like?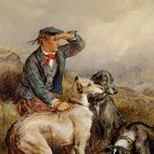 The most common trait of the lurcher is their great love of people. Many of the Midwest lurchers that we help have had a bad start in life and have lived their entire life outside and are not used to living inside house. We find the Midwest lurchers to be affectionate, loyal, obedient, and social, as most have lived with other dogs. People who have adopted them say they are intelligent, athletic, and possess a sensor of humor. Lurchers are deeply appreciative of finding a home where they can live inside and be loved. Like many Greyhounds, they excel at roaching, being a couch potato, and playing with stuffed toys. Many of the lurchers have never seen toys or treats or had the luxury of a sleeping on a soft bed.
Depending on their age and the type of breed they are mixed with, lurchers may be more energetic than Greyhounds, but yet have many of the endearing characteristics that Greyhound lovers adore.  They love being with their "people." They have a true zest for life and are very loving and affectionate dogs.  Lurchers make exceptional family pets. They will do best in a fenced in yard.
Many lurchers are bred to hunt and chase furry animals and many are used for field trial racing.  They are usually kept outside all year around.  When we get them, their coats may be fluffy and thicker than normal. In a few short months, they lose their farm coats and they become elegant and beautiful dogs.
Some lurchers may have a high prey drive and may not be good with kitties. A dog that is good with cats in one house may not be good with cats in another. Caution should be used when introducing lurchers to small animals and they should not be left alone at home together until all adjust. Even the most small-animal safe dog in the world indoors may chase small animals outside. In the yard, lurchers are likely to chase squirrels, cats, rabbits and birds. We have found that many of the lurchers have been exposed to more breeds of dogs than the racing Greyhound and do quite well with smaller dogs.
As with most breeds of dogs, they are all unique and have different personalities.  Some of the lurchers are initially timid or on the shy side, but most warm up quickly once they are treated with kindness and they feel secure. Others are outgoing and take to their new lives within a couple days.  
Many have had no training and may benefit from basic obedience classes as long as the training is positive.
Lurchers have a wonderful strong spirit and most of the lurchers adjust quickly and are very appreciative of their new home and family. We are forever indebted to the adoption groups who have taken these wonderful dogs and given them a second chance.